Time To Put Those Winter Tires on Your Car!
Thanksgiving is over. Christmas is right around the corner.
The temperature is dropping fast, and the weather is getting worse.
You know what that means: It's time to put those winter tires on your car or truck! 
Make sure you're ready for the cold, rain, ice, and snow this winter by replacing your tires right away. You don't want to get caught unprepared, with those old summer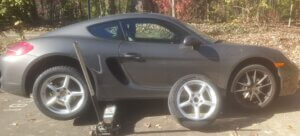 tires on your car, right? It's not a good feeling to be sliding around all over the place – or worse – getting stuck and have to call an expensive tow truck to come get you!
When you call us today, we'll be sure you get the right winter tires for your vehicle.
And if you're too busy to come to us, we'll come to YOU, with our executive Mobile Tire Service!
Yes, we can come to your home or office to replace your tires while you go on with your day.
Imagine going in to work in the morning, and coming out with new winter tires on your car by the time you go out for lunch!
So don't delay, call Xtreme Tire Sales today!
Call 703-622-1777, and ask for Ed
Get those new

Winter Tires

for your car or truck!
We provide top-quality new and used tires to our customers in Chantilly, VA and the surrounding areas.
Mon-Fri:
Sat:
Sun:
9 am-6:30 pm
9 am-5 pm
Closed